William Allen White: Emporia's Most Famous Native Son

Posted on Sep 26, 2023 by Visit Emporia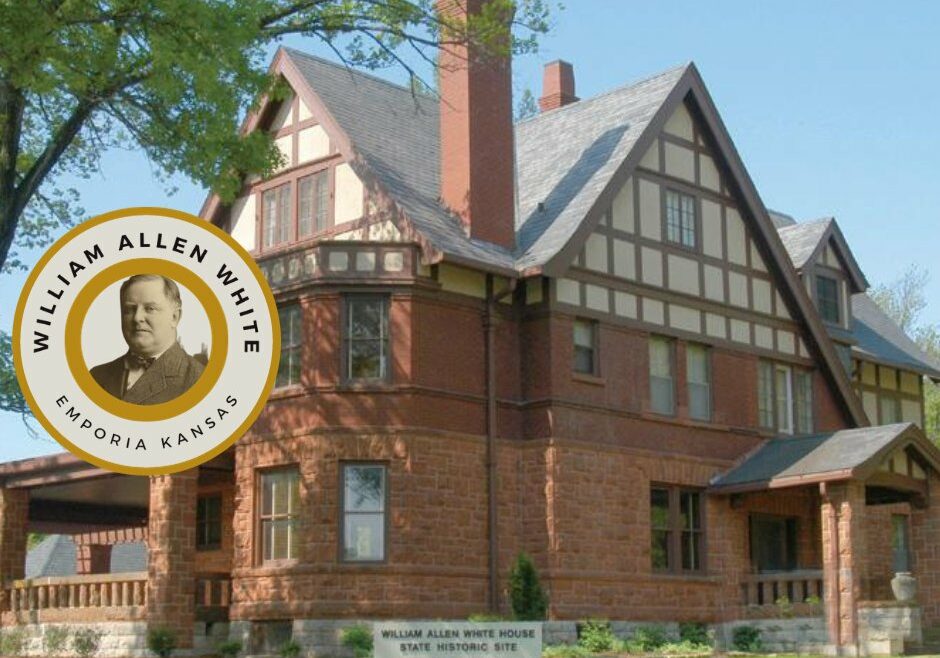 Celebrate autumn in Emporia with a deeper dive into the legacy of our town's most famous resident: William Allen White. The first Saturday in October celebrates William Allen White Legacy Day–and there's plenty to see and do any time you visit Emporia!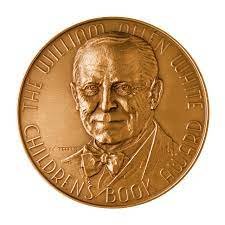 Many will recognize the name of the famous editor of The Emporia Gazette because of the long-running William Allen White Children's Book Awards. Each year, the winning authors gather on the lovely porch at Red Rocks, the historic William Allen White home, to autograph books and chat with school children from across the state who read and voted on the books nominated for the prestigious award. This year's award winners are Lindsay Currie's "Scritch Scratch" and J.L. Esplin's "96 Miles". The event will be held on Friday, Oct. 6, this year, from 5:00 to 6:30 p.m. The awards ceremony will be held the following day at Emporia State University.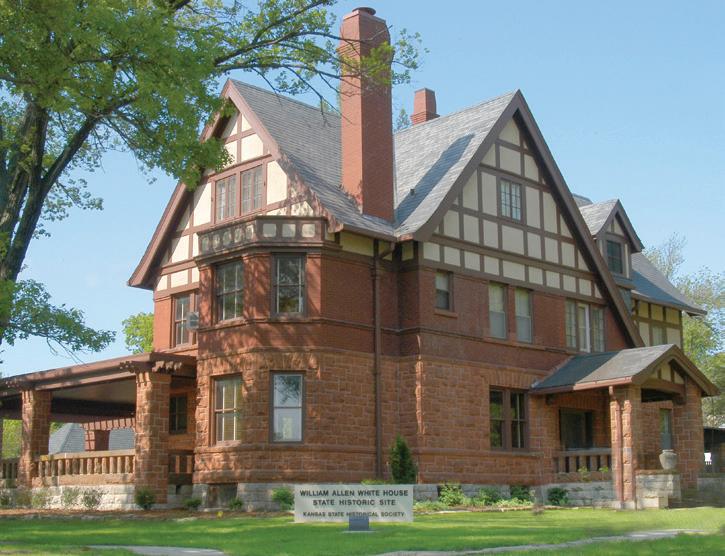 Plan a visit to the White family home at 927 Exchange St. and tour the beautiful house, gardens, and adjacent visitor center. The home has hosted famous guests from President Theodore Roosevelt to author Edna Ferber. William Allen White was born in Emporia, moved with his parents to El Dorado, then moved back to Emporia in 1895 and bought The Emporia Gazette, earning the nickname "The Sage of Emporia". White's fiery editorial, "What's the Matter With Kansas?", and his touching tribute to his teenage daughter Mary upon her untimely death at the tender age of 16, were his best known writings. He earned the Pulitzer Prize for his editorial "To an Anxious Friend". The Red Rocks State Historic Site is open Wednesday through Saturday, 10:00 a.m. through 5:00 p.m. Admission and tours are free throughout the 2023 season, which ends October 14.
Now that you've learned a little more about our famous "Sage of Emporia", take the opportunity to check out some other related sites! Your first stop is right across the street, at the William Allen White Elementary School, 902 Exchange St. A replacement for the Union School attended by young Mary White, the current building was constructed in 1950 after William Allen White's death, and named by its students. The school lobby displays photographs of the White family.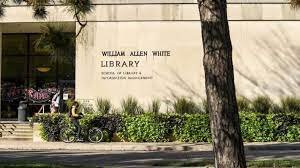 From here, it's a short distance to Emporia State University's William Allen White Library, at 12th Ave. and Merchant St. Serving the informational needs of students and faculty at the university, the building also houses the School of Library and Information Management. The library's William Allen White Collection contains books, manuscripts, correspondence, photographs, and other materials about the Pulitzer Prize winning editor. The Mary White Collection of children's picture books honors White's daughter Mary, who was killed in a horseback riding accident in 1921. It includes school work, photographs, and memorabilia. The William Allen White Children's Book Award winning books from 1952 to the present year, chosen by Kansas children, are on display. Visitors are welcome. Call 620-341-5037 to arrange a tour.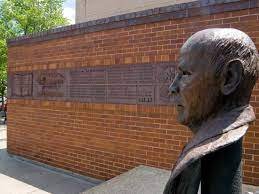 Next up: White Memorial Park, 6th Ave. and Merchant St. This midtown park commemorates the contributions of not only William Allen White but also of his son, William Lindsay White. A bust of William Lindsay White (1900-1973) sculpted by Anne Darrow is the main feature of the park, which also includes writing selections by the two men. Old-fashioned park benches and street lamps surrounded by lovely plantings make this a pleasant space for relaxation and reflection. The park is book-ended by the regal Gazette building on the south and the current home of the newspaper on the west.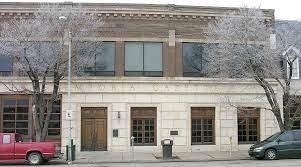 The historic Emporia Gazette building at 517 Merchant St. is in the process of renovation and reinvention. The actual newspaper office is currently located at 109 W. 6th Ave., adjacent to its original home. The newspaper remains a publication of the White Corporation well over a century after White purchased it in 1895. It is currently operated by his great-grandson Christopher White Walker and wife Ashley Knecht Walker. While the exterior of the Gazette building has been renovated over the years, its character remains intact and White's presence still prevails. Current plans are to create a mixed-use development called the Gazette Collective, featuring a restaurant, offices, luxury condominiums, short-term visitor rental units, and an artist-in-residence studio. The project vision is inspired by the William Lindsey White quote: "Without purpose, a building dies."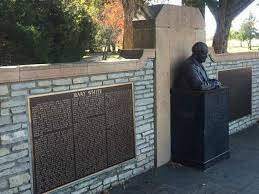 Your final stop will be at the William Allen White Bust and Mary White Memorial at Peter Pan Park, at south Rural Street and Kansas Avenue. The White family gave this lush, picturesque 52-acre park to the city in memory of their teenage daughter Mary. On the southeast edge of Peter Pan Lake is the memorial, which was dedicated by former President Herbert Hoover. The park offers a disc golf course, a splash pad, children's play areas, and outstanding picnic spots.
Following in the spirit of our most famous native son, we do our best to conserve the natural resources with which we are blessed. While you're visiting us, we hope you'll also take time to learn more about our Visit Emporia Pledge, which encourages everyone to be good stewards of our community and environment during your time here with us.
1. Stay golden
2. Leave no trace
3. Respect the land and its people

Find out how YOU can take the Visit Emporia Pledge here.
Visit Emporia is the official Visitor Information Center for Emporia offering brochures and maps of Emporia, surrounding areas, and the state of Kansas. Drop in to visit us at 719 Commercial St. in downtown Emporia. We're open Monday through Friday, 8:30 a.m. to 5:00 p.m. See the Visit Emporia website for more information or check us out on Facebook, Instagram, and Twitter for more activities and events.
# # #
Visit Emporia
Visit Emporia welcomes travelers and meeting planners, and serves as the visitor information center for Emporia, Kansas and surrounding area.
Subscribe
Want to stay up date on things to do in Emporia? Enter your email and get weekly updates delivered to your inbox!