A Jeeping Guide: The Flint Hills Surrounding Emporia

Posted on Jan 10, 2022 by Visit Emporia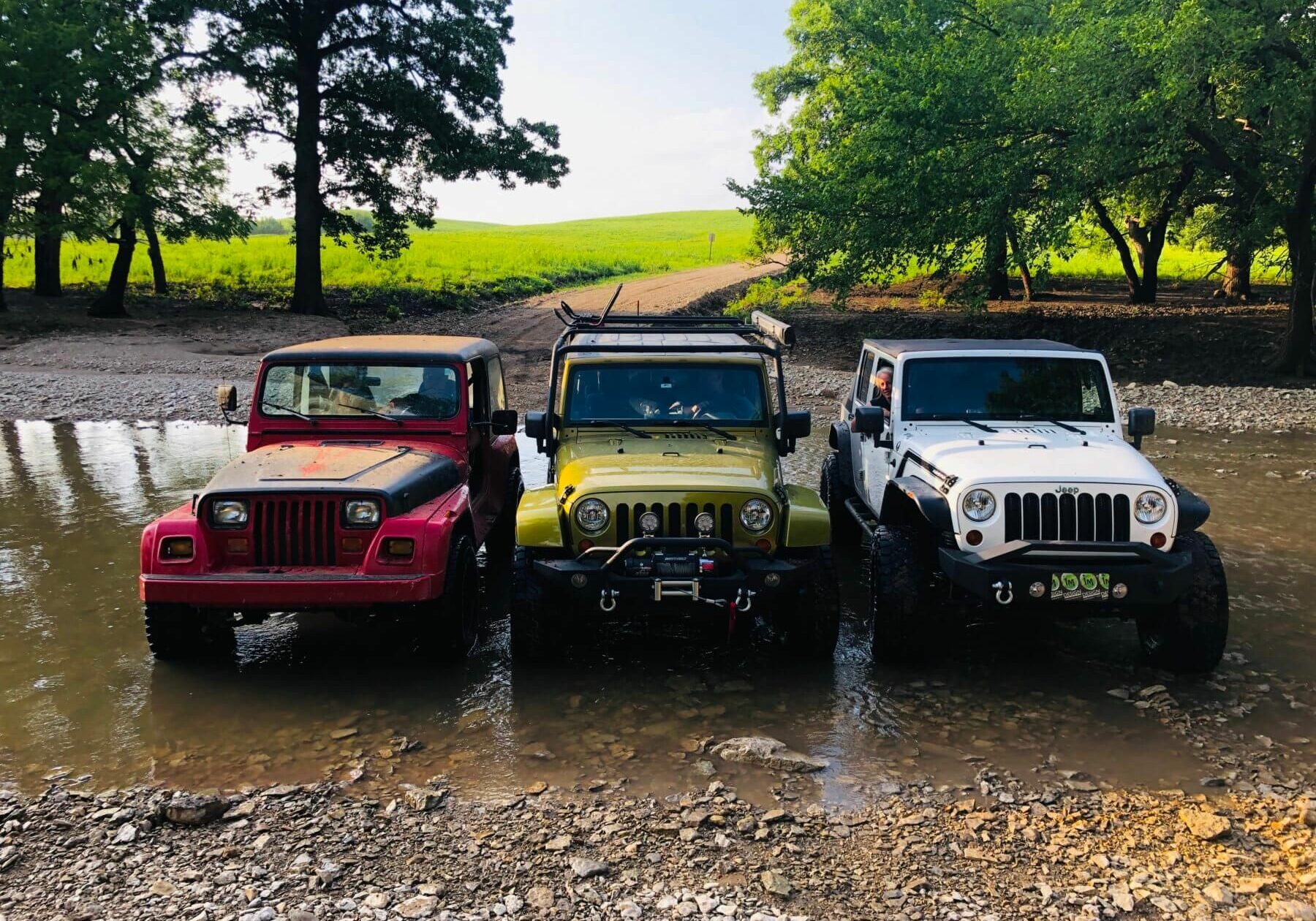 Emporia is known for its gravel cycling and disc golf, but do you know what is growing in popularity? Jeeping. Since the Flint Hills are located mostly west of Emporia and extend to the north and south, Emporia is a great location to start your next jeeping adventure. We have created five jeeping routes for you to explore the Flint Hills around Emporia. The routes are named by color so that one can easily distinguish them on the Printable Route Map. The great thing about these routes is that they interconnect so you can choose how long or short you want your trip to be. Each route also has at least one feature to make the route more memorable. 
Orange Route
Teter Rock: This is a landmark tribute to the 1920s oil boom settlers, named after James Teter, who owned the land and oil fields in the area. The original Teter Rock was just a pile of stones used as a guidepost to help homesteaders find their way. The stones were later used to help build their houses. Then in 1954, the Greenwood County Historical Society created the current monument to the original. Now, this 16' rock slab is one that you can't miss, literally.
Texaco Hill:  Texaco Hill has an elevation of 1,637 feet. We highly recommend stopping at the top to look out over the vast open range.
Pink Route
Verdigris Crossing: This is a low water crossing over a shallow section of Camp Creek. Camp Creek merges into the Verdigris River about 200 feet south of the crossing. The Verdigris is visible as you come around the bend heading south.
Matfield Green Tower: This is the spot to watch sunsets. All locals will agree that this is the prime viewing point. Just park beside the 393 foot-tall communication tower, pull out your lawn chair, and relax as the sun goes down.
Teal Route
Rocky Ford Bridge ("Bird" Bridge): This Pratt Truss metal bridge was built in the 1890s. It originally stood across the Union Pacific Railway tracks at the Kansas City Stockyards but was moved to its current location in 1907. At that time, it was the largest single span bridge in Kansas. In 1987, the now famous bridge was featured in the true crime movie, "Murder Ordained."

The bridge is often referred to as "Bird Bridge" by locals who know the story.
 Green Route
Lake Kahola: This is a private lake, but you can still enjoy its views from the dam when you cross.
Yellow Route
Schrumpf Hill Scenic Overlook: This route takes you off the highway and onto a path through wildflowers and native grasses to the overlook. The route also includes informational panels that describe the flora and fauna of the prairie. 
No matter which route you decide to take, the important thing you need to remember is to never go off-road. These routes are all on public roads. Not all private property has a fence along its perimeter, so staying on the road will prevent you from accidentally trespassing. 
We consulted with local Emporian and jeeping enthusiast, Shawn Honea, who gave us an insider's view of what you need to know about jeeping through the Flint Hills.
Things to bring with you on your trip 
Tools, just in case. A spare tire! Food and drink, as there is none when you are "in" the Flint Hills. Full tank of fuel, as there is none out there either. Cell phone. Chairs. Camera. Celestron Binoculars. Friends.
The best time of year to go jeeping and explore the Flint Hills
It depends on what you want out of the trip. Sunsets are stunning in the spring through fall. The landscape will be black in the burning season, green in late spring, and golden in late fall. I think snow is fun to drive in winter.
Favorite jeeping route to take around Emporia
Head south out of Emporia and end up south and west of Madison. Eventually through Matfield Green and up to Cottonwood Falls, north to Lake Kahola, then back to Emporia. This route is over 100 miles for sure.
Some cool or interesting things I've seen on trips
Families in stock minivans, not smart at all! Jack rabbits; they're huge! Space chiggers (it's what we call satellites). Sunsets are the best! Watching the thousands of acres of prairie on fire. Beautiful colors year round. Storms. Very little man made stuff. The look on peoples faces who have grown up in large cities and have never experienced this view before. 
Something that future jeepers should remember when exploring
The Flint Hills are our mountains or ocean. I cannot stress enough that this is a fragile landscape and easily damaged by unnecessary trekking across the grasses. There are hundreds of thousands of cattle that are out there. Respecting them and the fences that contain them are a must. Take out what you brought in; please don't litter. Be smart and safe and enjoy our backyard.
With these things in mind, we encourage you to travel to Emporia for your next jeeping adventure. The spectacular Flint Hills are open and ready to be explored. What are you waiting for? Explore, jeep, and stay in Emporia!
Visit Emporia
Visit Emporia welcomes travelers and meeting planners, and serves as the visitor information center for Emporia, Kansas and surrounding area.
Subscribe
Want to stay up date on things to do in Emporia? Enter your email and get weekly updates delivered to your inbox!