Ready for a Weekend Disc Golf Road Trip?

Posted on Apr 20, 2023 by Visit Emporia
It's springtime in Emporia, so naturally your thoughts turn to disc golf, right? Up for an outdoor family-friendly adventure that's right down the road? Our town isn't called the "Disc Golf Capital of the World" for nothing, you know!
Don't miss one of the easiest weekend road trips that everyone from eight to eighty can enjoy. Home to a national disc golf retailer, professional courses, championship events, and more disc golf baskets in the ground per capita than anywhere in the world, it's no wonder Emporia was named the #1 Disc Golf Small Town in the U.S.!
Our town was literally built for disc golf. Founded right here in Emporia, Dynamic Discs is the nation's premiere disc golf brand. You can shop thousands of discs and gear at their flagship retail store (912 Commercial St., 620-208-3472) or schedule a tour of their world headquarters (840 Overlander St., 620-208-6161).
Don't forget to fuel up first with a quick breakfast or lunch at Braum's (1028 W. Sixth Ave. and 2121 Industrial Rd.). A perennial favorite, Braum's is well-known for its dedication to locally-sourced ingredients–from ice cream made with milk from the company's own herd of dairy cows to baked goods from specially-built German ovens in their own bakery.
Ready to play? Emporia has a mix of 18-hole and 9-hole disc golf courses built for every skill level from beginner to expert, many of them designed by 2010 PDGA Professional World Champion Eric McCabe.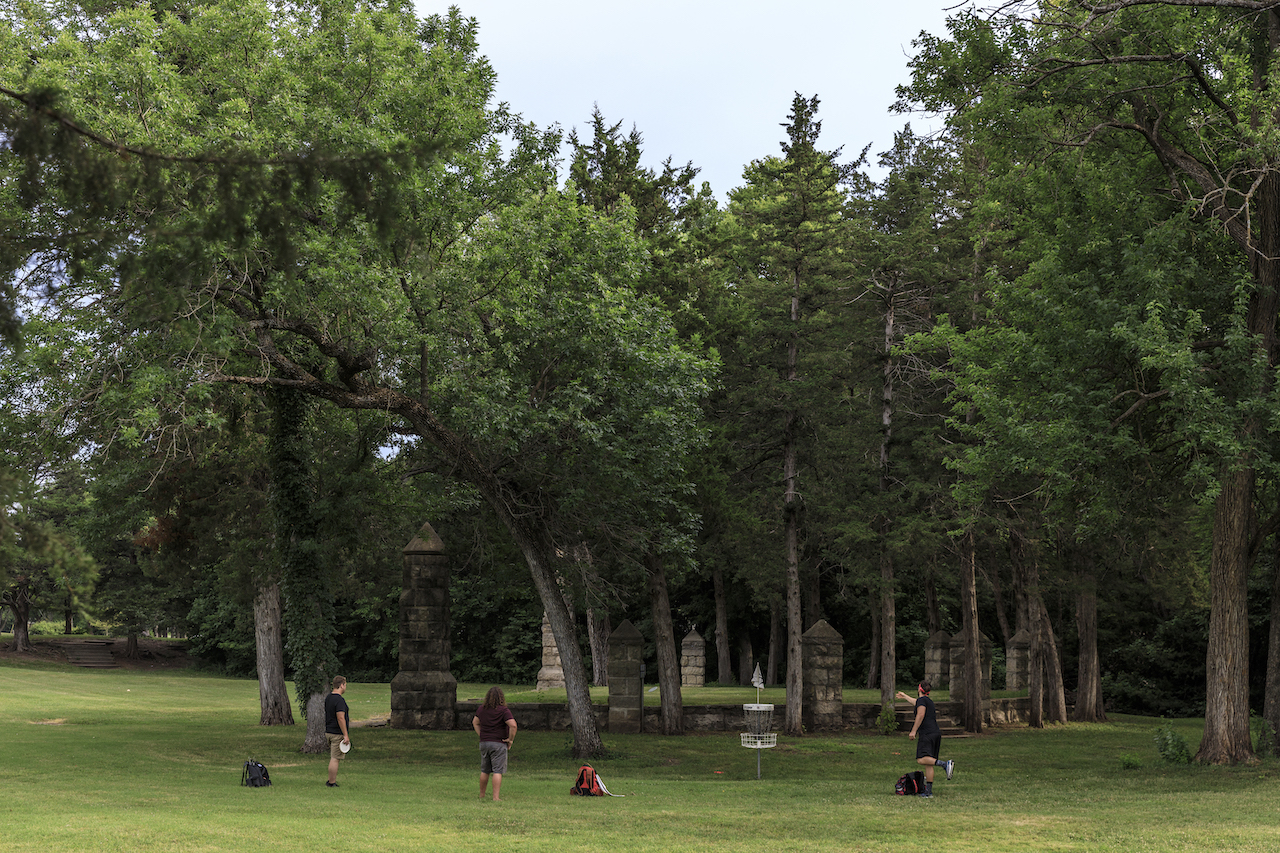 Peter Pan Park (South Congress St. and West Kansas Ave.) is one of Emporia's largest and most beautiful parks, established nearly 100 years ago. The challenging 18-hole course offers a variety of features. Not only a favorite of many disc golfers, it is one of several local courses used during the Dynamic Discs Open. You can also enjoy a splash pad, playground, picturesque lake, plenty of picnic tables and shelters, and a beautiful walking path that meanders along the Cottonwood River down to Soden's Grove. The historic park land was donated by famous Emporia newspaper publisher and Pulitzer-Prize-winning author William Allen White in 1927 as a tribute to his daughter Mary, who tragically died from horseback riding injuries at just 16. He wrote, "she was a Peter Pan who refused to grow up." Visit the William Allen White memorial bust and plaques on the southeast side of the lake. Don't miss the "Monkey Island" WPA project, a stone structure surrounded by a moat, which once housed several rhesus monkeys. Dynamic Disc's Monkey Island Open, held at the park in March, takes its name from this piece of local history.
Another favorite among players is Jones Park located on Jones Drive in northwest Emporia. The park offers two disc golf courses. Jones Park East course starts and finishes near the east parking lot just off Lincoln St. at Jones Drive. Jones Park West is a fun course for golfers of any skill level. First hole of the west course is off the Prairie Street entrance. This 70-acre park offers some of the best disc golf in the area. In 2022, a new championship-level course was built, hosting the Dynamic Discs Open in June. Jones Park also offers plenty of room to walk or run, two fishing ponds, shelters, and a playground with restrooms.
You won't want to miss the Emporia Country Club course–and be sure to stop in at the newly-renovated 1801 Bar & Grill for a meal or a snack. One of the best-known championship disc golf courses in the U.S., it has been host to the Dynamic Discs Open as well as the 2016 and 2022 PDGA World Championships. The course is well known for the signature 16th water hole, as well as challenging finishing holes. And if that's not enough to whet your competitive appetite, players must navigate two par 4 holes and an island green on their last three holes. Our best advice? Shoot for par–and maybe make it out alive! Several professionals have earned their champion crowns after tough rounds on this beast of a course. The club provides specific times for disc golf play; it is pay-to-play; and players must be current PDGA members or guests of Dynamic Discs to access the course. Check in at the Community Club Pro Shop before playing.
Emporia offers a wide variety of overnight accommodations, many located in the northwest part of town, an area conveniently close to the Flinthills Mall and Emporia Pavilions, with plenty of shopping options for the non-disc-golf-playing people in your group. Check out these lodging options that have a disc golf basket on their property so you can practice your putting! Nearby Mainstay Suites (2602 Candlewood Dr., 620- 343-7756) and Holiday Inn Express and Suites or, closer to downtown, Gufler Mansion Bed & Breakfast (612 W. 12th Ave., 970-582-0207).
So take the plunge! Start your Spring with a classic American road trip. Emporia is built for disc golfers, from fabulous courses to delicious food and great shopping. Enjoy our town's laid-back vibe and a community filled with fellow disc golf enthusiasts. Check out our comprehensive guide to help you plan your perfect disc golf getaway. See the Visit Emporia website for more information or visit us on Facebook, and Instagram for more activities and events happening in the Disc Golf Capital of the World!
Visit Emporia
Visit Emporia welcomes travelers and meeting planners, and serves as the visitor information center for Emporia, Kansas and surrounding area.
Subscribe
Want to stay up date on things to do in Emporia? Enter your email and get weekly updates delivered to your inbox!