These Mischief Makers Share their Pot of Gold

Posted on Mar 10, 2020 by Visit Emporia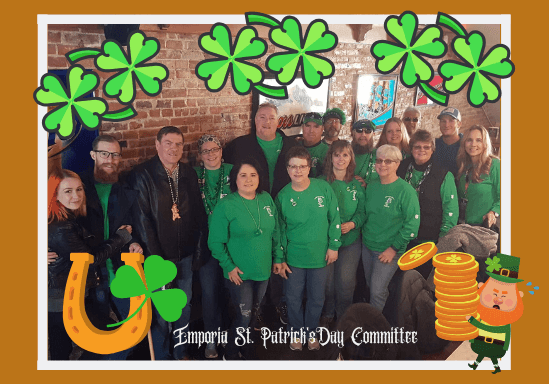 What started out as three men and a dog in 1994 has blossomed into an organization that has given away $325,000 to local organizations and charities. Since the Emporia St. Patrick's Day Committee's humble beginning of walking four blocks in a parade, the organization has grown to about 15 committee members and this year the committee will donate to 16 organizations.
Trey Sommers, chair of the St. Patrick's Day Committee, said the original members were Jim Brady, Jim Ayers and Steve Corbin. "Jim was on his way back to Emporia from the Kansas City St. Patrick's Day parade there and heard it was started with three men and a dog and he wanted to replicate that here," Sommers said.
The three men took to downtown Emporia for their first unofficial parade, walking four blocks with other property owners and business owners joining in. The following year a committee was formed, and they started a scholarship for Emporia State University.
But the committee didn't stop there.
"The committee decided to focus on the betterment of children in the Lyon County area," Sommers said. "And they started asking for applications."
Nearly every organization the committee gives to is a non-profit. Generally, the funding is given for a project the organization needs funds for.
"We all volunteer our help toward helping kids, veterans and (people with) special needs in our area," Sommers said. "That's typically the people we look to help."
The organization continues to grow.
"Several years ago, we started thinking outside the box," Sommers said. "We opened it up to more than just one organization. Now, as we've grown, we try to help as many people as we can."
Last year, the committee set a record of giving away $34,000 in two and a half months, and they also started a scholarship at Flint Hills Technical College with a matching donation from Vektek.
The organization starts out their year by meeting in the second week of January and they continue to meet through the parade, which is on March 14th. "In roughly two and a half months we put this whole thing together," Sommers said. "We start off with our auction and every year we use a different theme." The money raised from the auction goes directly back to local organizations. "It's not so much how much we've raised," Sommers said. "It's about how much it's impacted all the organizations we help."
2020 Events
The theme of this year's events is Leprechaun Madness. Along with the auction, which raised $21,600 this year and was held at Bruff's Bar & Grill, the committee has a full day of events on March 14 in celebration of St. Patrick's Day. The Leprechaun Dash 5K, which the Emporia Recreation Center helps coordinate, will be held at 10 a.m. The 5K will be followed by a brand-new event, the Luck of the Irish Ace Race. The committee partnered with Dynamic Discs to host a 9-hole disc golf course at Fremont Park.
The course is one throw per hole. "If you make an ace, you get prizes," Sommers said. For $10, participants can buy a disc made specially for this event. The course is $5 a round and participants can play rounds from 11 a.m. to 3:30 p.m. "We're super excited about this," Sommers said. "It's literally three blocks away from Town Royal, which is the hub of our parade."
The annual St. Patrick's Day Parade will begin at 1 p.m. on March 14, followed by festivities throughout the afternoon downtown, including the annual St. Patrick's Pub Crawl, which is hosted by the Downtown Emporia Bar Association. "They put it on and share proceeds with us," Sommers said.
The committee will be giving away prizes after the parade including a side of beef from Robbins Ranch, a 65-inch TV from Triad Leasing and $200 in cash. Raffle tickets are $5 a ticket or five for $20 and may be purchased from any committee member or by calling Sommers at (620) 794-4040.
Sommers said the City of Emporia has embraced the committee. "We've been doing this for many years, the city has embraced our organization and they see that we give 100 percent back to the community and the good that we've done," Sommers said. "They're very supportive of what we try to do."
This is Sommers' 20th year serving on the St. Patrick's Day Committee. "I've been with many organizations," he said. "The reason I've stuck with this one is it has a lot of things I'm looking for in an organization. It's a fun organization to be with."
For more information on the St. Patrick's Day events, go to the Emporia St. Patrick's Day Committee's Facebook page.
This year's funding recipients:
Newman Regional Health Teddy Bear Clinic
TFI Family Services
What's in Outdoors
Emporia Public Library
Transitions
Read to Your Bunny
North Lyon County Veterans Memorial Project
Loving Hands Ministry
VFW Post 1980
USD 252 Southern Lyon County Honor Flight
Lord's Lamb Preschool
First United Methodist Church
Camp Hope
Sacred Heart Catholic School
Shriners
Flint Hills Technical College Scholarship
Visit Emporia
Visit Emporia welcomes travelers and meeting planners, and serves as the visitor information center for Emporia, Kansas and surrounding area.
Subscribe
Want to stay up date on things to do in Emporia? Enter your email and get weekly updates delivered to your inbox!