The Scoop on Halfway to Everywhere!
Posted on Aug 31, 2021 by Kelly Mayer
We've got the scoop on who's playing when and where at the Halfway to Everywhere (H2E) music and arts festival this weekend! The event is Saturday, September 4, from noon until midnight. The H2E map below shows the festival area, which runs from 6th Avenue to 8th Avenue in the parking lots and alley between Commercial and Merchant Streets. There will be multiple acts performing throughout the day on five stages. The Emporia stage is located in the northwest corner of of the Farmer's Market parking lot (corner of Merchant and 8th Ave.). The KVOE stage is located on 7th Avenue, backed up to Commercial Street. The Radius stage is on the patio at Radius Brewing Company, located at 610 Merchant St. The Emporia State University stage is in the parking lot south of Radius Brewing Company, backed up to Merchant Street. The fifth stage will be inside Bourbon Cowboy, 605 Commercial St.
What's Happening besides music?
In addition to music, there will be food and beverage vendors and Emporia First Friday (EFF) is hosting an arts market. In fact, EFF is kicking off festival activities on Friday evening with their monthly art walk. In addition to the September line-up of artists (totally different than the artists at the market on Saturday) and venues, EFF will be outlining a community mural that will be at the entrance to the art market and the public is invited to help paint. Friday art walk hours are 5:00 to 9:00 p.m.
Parking
Where's a good place to park you ask? Check out the parking map at the bottom. All the blue areas with a "P" in them are public parking areas just waiting for you!
Tickets
Tickets for H2E are FREE! Claim your ticket!  You can also upgrade to VIP tickets which include access to VIP lounges, dinner, drinks, and and an H2E goody bag. Purchase VIP Tickets. 
We hope you are able to visit Emporia this weekend and take in the festivities. Halfway to Everywhere is a program of Kansas Free for Arts and is held on the Saturday of Labor Day weekend.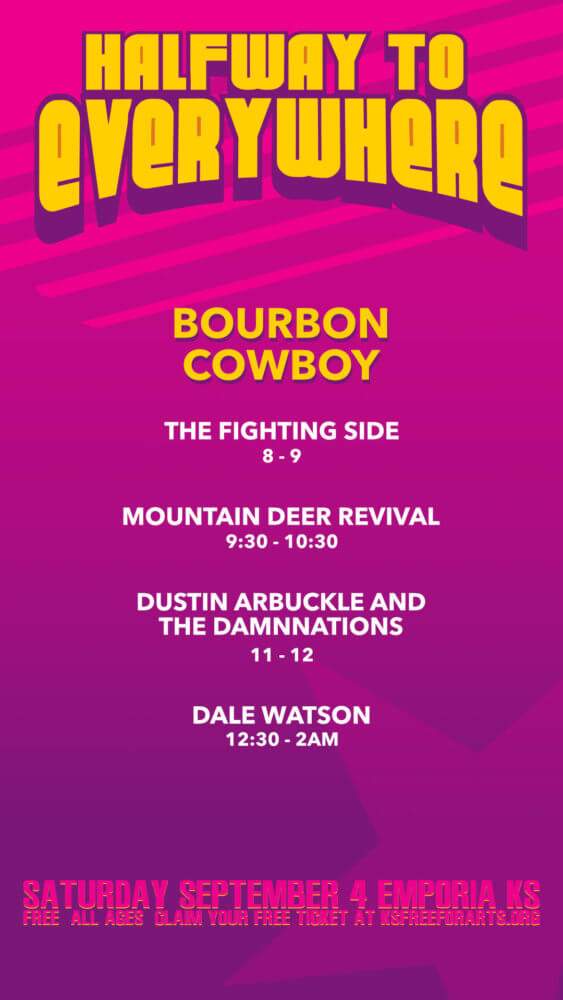 Kelly Mayer
Public Relations Manager at Visit Emporia
Subscribe
Want to stay up date on things to do in Emporia? Enter your email and get weekly updates delivered to your inbox!