Sertoma Mini Train is Turning 60!

Posted on Aug 21, 2018 by Visit Emporia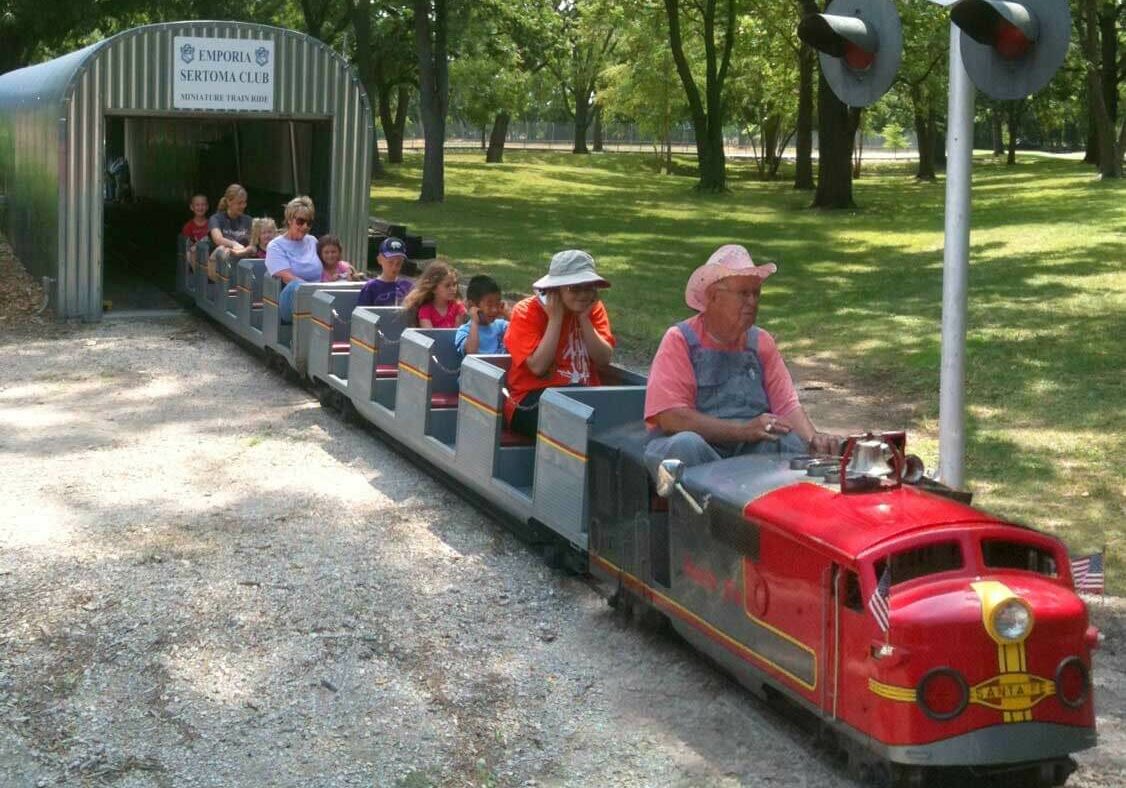 All aboard for a very special birthday party!
The Sertoma miniature train at Soden's Grove has been a fixture of summer evenings and children's birthday parties for six decades. The beloved train celebrates 60 years of operation this year, culminating in a birthday party on August 25, 2018, at Soden's Grove, located at South Commercial Street & Soden Road, next to the David Traylor Zoo.
Originally envisioned as part of a larger amusement park, the tiny train came to Emporia in 1958. The track circles Soden's Grove, a picturesque glade of walnut trees and open grass located between the Cottonwood River and the David Traylor Zoo. Although the rest of the park never materialized, generations of children have chugged around the Grove in the train's open passenger cars, waving as they travel past parents and grandparents and gleefully hollering through the tunnel.
The Sertoma Club of Emporia took over operation of the miniature train from the city in 2001, and since then volunteers have completed extensive repairs and restoration on the train and tracks. The organization also built a new miniature train station, complete with ADA compliant platforms and an adorable station building for the dispensing of tickets and snacks.
In recognition of the impact the train has had on the community, the Sertoma Club is inviting young and old to celebrate its milestone 60th birthday. The little train's big birthday bash takes place Saturday, August 25 4:00-9:00 p.m. Free activities include carnival games, a petting zoo, balloon animals, bouncy houses and, of course, rides on the train. Live music from local musicians begins at 7:00.
Food vendors will be on hand with a variety of delicious food choices, or pack a picnic supper and bring the family.
The Sertoma Club of Emporia operates the miniature train in Soden's Grove four days a week from June 1-August 31. The schedule is 6:30-8:30 p.m. or dusk, Wednesday, Saturday and Sunday, and 9:00-11:00 a.m. Thursday. This community-wide celebration also marks the last Saturday that the Sertoma Train will be running this summer, but it is available to rent for special events through autumn, depending on weather conditions. Call 620-412-3806 for details.
Visit Emporia
Visit Emporia welcomes travelers and meeting planners, and serves as the visitor information center for Emporia, Kansas and surrounding area.
Subscribe
Want to stay up date on things to do in Emporia? Enter your email and get weekly updates delivered to your inbox!