Lyon County Self-Guided Historic Bridge Driving Tour
Do you love history, photography, or just a good country cruise? Lyon County has some interesting and photogenic bridges. Pack some snacks, grab your camera, and take a scenic drive with the family or your favorite pooch. We've put together 2 routes, one shorter and one longer, for you to explore. Below is a little history of each bridge. Routes and maps are located at the bottom of the page.
Admire Memorial Bridge
Location: Hill Creek, ½ mile west of Admire, KS on Road 330
Coordinates: 38.637002, -96.11531099999999
This limestone arch bridge was built in 1912 by William Grimmet at a cost of $2,335.75. The bridge spans 47.9 ft long and 14.1 ft wide over Hill Creek.
There isn't much you can see from the road, but you can snap a photo of the limestone underside from the west end of the bridge.
Reading Bridge
Location: 3 miles north of Reading, Kansas on Road Y5/South Carlson Rd
Coordinates: 38.566977, -95.96158199999999
This steel bridge built in 1940 features a polygonal Warren Pony Truss design with alternating verticals. The bridge spans 103 ft long and 12.5 ft wide over the Marais des Cygnes River.
Hartford Bridge
Location: East side of Hartford, Kansas on 19th Lane
Coordinates: 38.308932, -95.94780399999999
This concrete arch bridge was built in 1926 by C.A. Clark. This bridge sits along the Lyon/Coffey County line. There is marker on the Northeast end of the bridge denoting that it was a Federal Aid project with both counties.
The design is a two-span Marsh arch bridge. It was listed on National Register of Historic Places in 1983. It spans 292.9 ft long and 19 ft wide over the Neosho River.
Neosho Rapids Bridge
Location: Just west of Neosho Rapids on South St/Rd 150
Coordinates: 38.367735, -96.001937
This steel bridge was built in 1940 by C.J. McCoy Construction Company, of Emporia, Kansas for a cost of $53,000. The design is a cantilevered warren-through truss. It spans 473 ft long and 23.9 ft wide over the Neosho River, with a vertical clearance of 15.6 ft.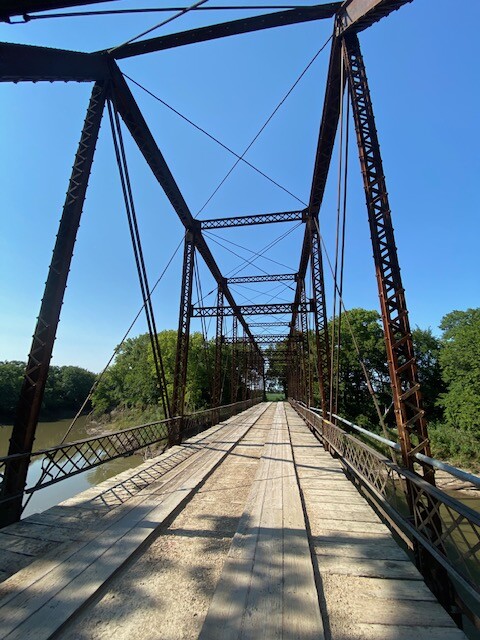 Rocky Ford Bridge (aka "Bird" Bridge) - Emporia
Location: Cottonwood River Rocky Ford
Coordinates: 38.36590899999999, -96.11496
This steel truss bridge was built in 1890s by A.M. Blodgett Bridge Company of Kansas City for a cost of $6,000. It spans 219.1 ft long and 15.1 ft wide over the Neosho River, with a vertical clearance of 15.6 ft.
The bridge originally stood across the Union Pacific railway tracks at the Kansas City Stockyards and was moved its current location in 1907. At the time of its placement over the Cottonwood River in Lyon County, it was the largest single span bridge in the state of Kansas.
In 1987, the bridge was featured in the true crime movie, "Murder Ordained" and today it is part of a popular gravel cycling route. Read all about the story of Rocky Ford bridge here.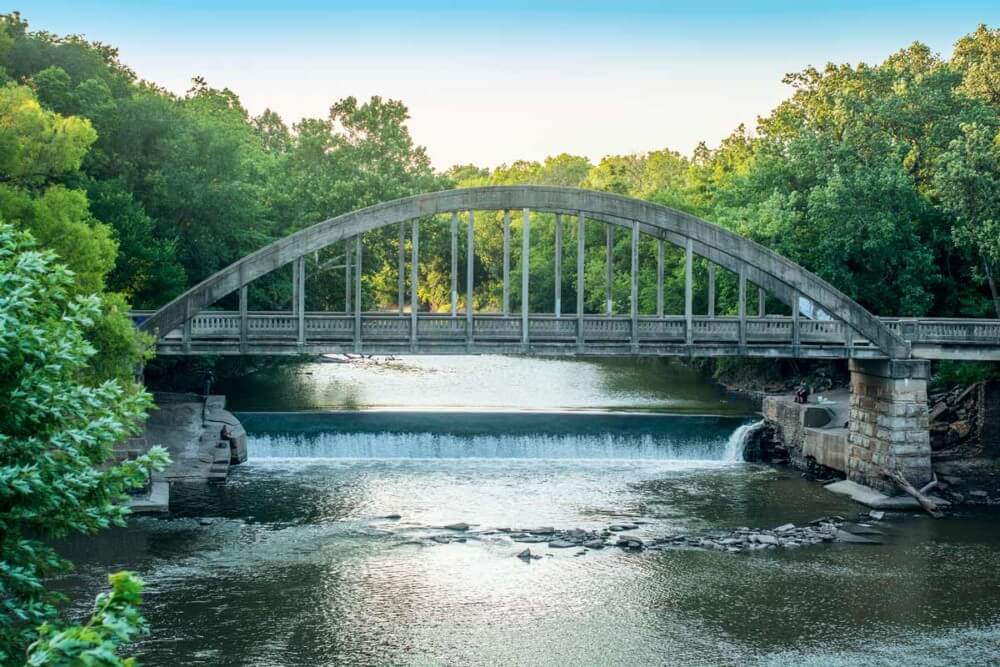 Emporia Soden's Grove Bridge at All Veterans Memorial
Location: Cottonwood River, Emporia 
Coordinates: 38.385997,-96.181962
This steel and concrete bridge was built in 1923 by Marsh Engineering of Des Moines, Iowa and Western Bridge Company, of Harrisonville, Missouri for a cost of $19,849. The design is a Marsh Rainbow Arch. It spans 158 ft long and 23.9 ft wide over the Cottonwood River. It was listed on the National Register in 1984.
The limestone pier and abutments remain from an earlier metal post truss bridge built in the late 19th century. 
The design was unique because the arches could contract along with the bridge floor under varying conditions of moisture and temperature. This concept competed with the popular steel truss design at the time, and Marsh set out across the Midwest to solicit his rainbow arch bridge. The Marsh Bridge Company designed 76 bridges in Kansas between 1917 and 1940. 
Next to the bridge is Emporia's All Veterans Memorial. There is also a walking trail near the east end of the bridge that connects the area to Peter Pan Park.
39 miles, 58 minutes drive time + time at 4 stops
82 miles, 2 hour drive time + time at 6 stops