Gustoso Food Truck is Satisfying Emporia's Pasta Cravings

Posted on Sep 8, 2020 by Visit Emporia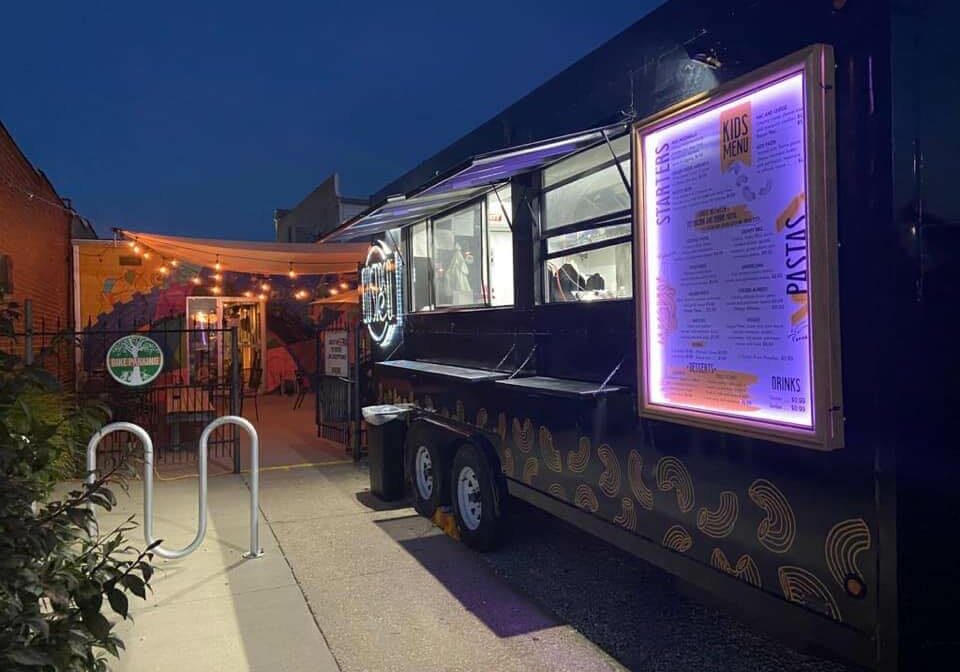 Calling all pasta lovers! The Gustoso food truck, which opened on July 3, is taking on Emporia's pasta cravings with their delicious menu. With its generous portions and unique flavors, there is something for everyone at Gustoso.
Gustoso, which is currently located behind Mulready's Pub, 717 Commercial St., was opened by three friends, Rosinel Rosas, Mary Henning and Alvaro Perez. All three friends have experience in the restaurant business, Perez said. Born in Venezuela, the friends' parents all owned restaurants in the same city in Venezuela. Recently, the three friends decided to open a restaurant in Emporia. Having experience with restaurants, they wanted to open an Italian restaurant, something Emporia was lacking.
"We said, 'hey, we know how to cook, we've run restaurants before, let's open something in Emporia,'" Perez said. "We just started adding different dishes and that's how we made our menu."
The original plan was to open a brick and mortar restaurant on Commercial Street, but spaces that fit their need were difficult to find, so they decided to open a food truck.
"It's our first food truck, but not our first restaurant," Perez said.
On the menu are nine different pasta dishes that are as tasty as they are beautiful, each coming from either family recipes or their own recipes. Selections include two different types of pasta: fettuccine or penne and dishes include Chicken Alfredo, Gustoso Pasta, Bolognese, Seafood, Chicken Pesto, Amatriciana and Veggies (made with veggie pasta). The kid's menu includes mac and cheese and one other pasta selection with a choice between two sauces. Desserts include Tres Leches and Tiramisu. In addition, they will have weekly specials that include different dishes, appetizers, and pastas or a different dessert.
"What we offer is something different, and something that is good," Perez said. "Even though we're in a food truck, we're trying to keep the pasta like an actual restaurant. If you go to the food truck and order pasta, we cook it at that moment. It's not frozen, we make it fresh. Normally with food trucks everything is frozen and fried. We cook everything fresh and then you can get the flavors of the basil and the sauces."
The truck has been a hit with Emporians who have been without an Italian restaurant for a few years now. "The Gustoso truck is
!" said April Armstrong, owner of Maud's Tattoo Company in downtown Emporia. "The portions are large and there is so much flavor. I'll have it all, thank you!" Armstrong suggested one of her favorite dishes. "Definitely try the Shrimp Pesto Fettuccine, you won't regret it," she said.
Emporian Linda Clarke tried the food recently and said the food is crave-worthy. "I had lunch at Gustoso for the first time," she said. "The Chicken Alfredo was great, but the Tres Leches was what dreams are made of! Yummy!"
Hours: 11:30-2 p.m., and 4:30-9 p.m., Tuesday-Saturday
Contact
Instagram: @Gustoso.Truck
Facebook: Gustoso Truck
Twitter: Gustoso_Truck
For carry out (620) 794-7250
Visit Emporia
Visit Emporia welcomes travelers and meeting planners, and serves as the visitor information center for Emporia, Kansas and surrounding area.
Subscribe
Want to stay up date on things to do in Emporia? Enter your email and get weekly updates delivered to your inbox!