Find Your Winter Spirit in Emporia

Posted on Feb 15, 2023 by Visit Emporia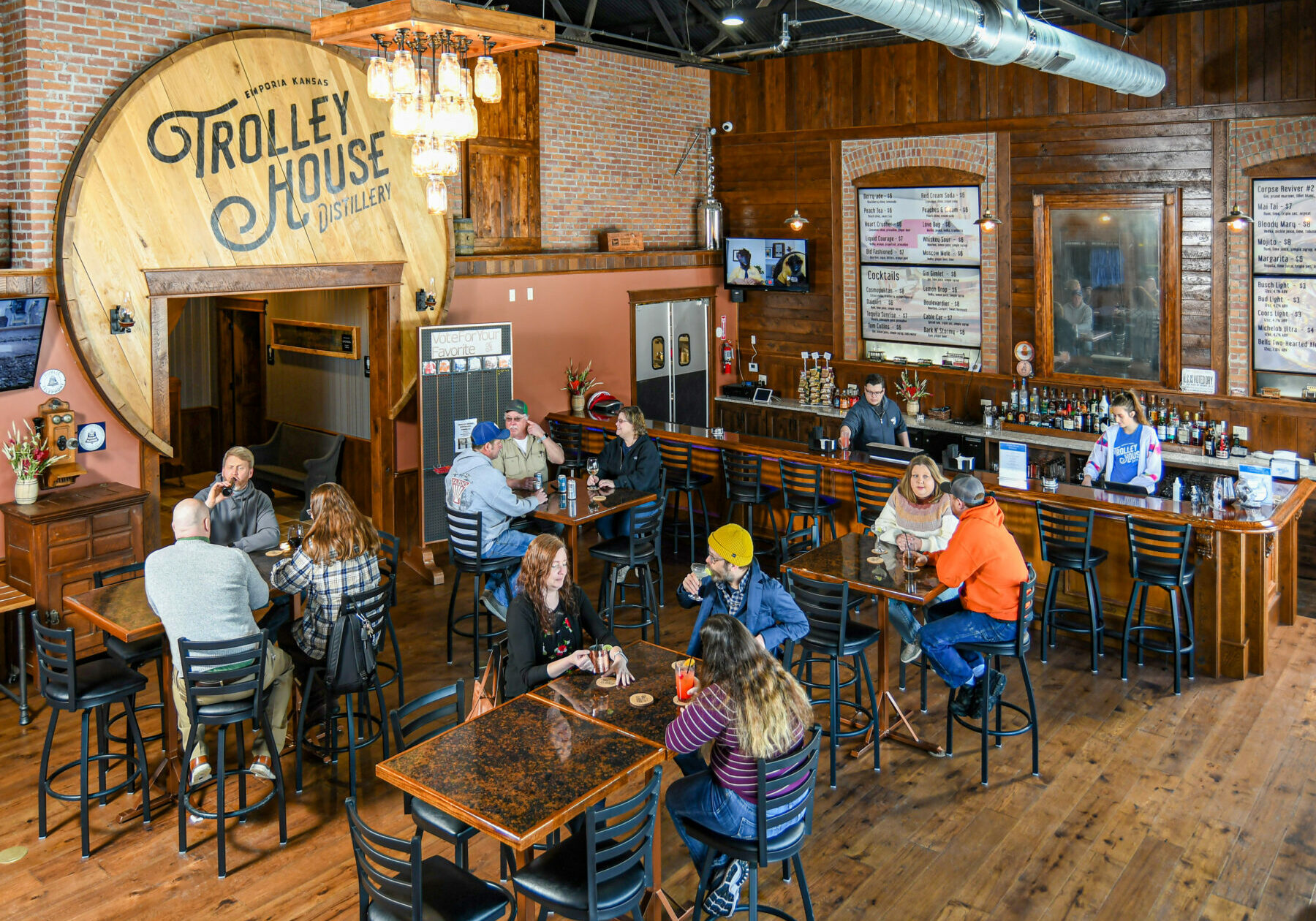 Even in the bone-chilling cold of a Kansas winter, you can warm your soul and discover the many spirits of Emporia. Spirits, you say? Why, yes–spirits of the sipping kind, that is. Tell Old Man Winter to back off while you explore the unique spirit offerings of our town. And during your spirit search, you might brush up against some local history and culture as well as environmentally and socially responsible proprietors!

What better place to begin your spirit journey than at Emporia's own distillery, the Trolley House? Located at 502 S. Commercial St., Trolley House Distillery is currently open Wednesday through Sunday. Timing is perfect, as the distillery recently released their first Straight Bourbon Whiskey. Try a tasting flight at the beautifully renovated bar–yes, the building really was the old trolley house!–and, if you're lucky, snag a barrel signers' bottle to take home. While you're there, check out the menu of small bites and bar food, and maybe a food truck or two in the parking lot. Don't miss the signature Trolley House Moonshine, with flavors ranging from Blackberry and Corn Whiskey to Peanut Butter and Cinnamon and Peach.

Radius Brewing Company in downtown Emporia is the town's first brewery since the Prohibition days of the 1920s. Radius channels the spirit of Emporia with favorites like William Allen Wheat Ale and a revolving selection of craft beers from Brewmaster Jeremy "JJ" Johns that are brewed right in the middle of the dining room! In addition to mouthwatering wood-fired pizza (watch it being baked in the open kitchen's traditional stone pizza oven), you will be tempted by Chef Gus Bays' inventive offerings for Taco Tuesdays, Burger Thursdays, and Sunday Brunch. Locally-sourced ingredients and a commitment to quality combine with a hip, convivial atmosphere to entice you in for a beer flight, a small bite, or a full-blown celebration. Radius Brewing, at 610 Merchant St., is open Tuesday through Sunday.

If your spirit trends toward a touch of speakeasy glam, get yourself over to Union Street Social. This irreverently swanky bistro, outfitted in the style of your grandma's weird basement, is the latest love child of the folks who magicked up the beloved but bygone Surly Mermaid Food Truck and Ad Astra Food & Drink. Lucky for all of us, Amanda and Ben are back at it with the Social! USS is located in the building that most recently housed the archives of the local history museum, and further back was home to one of Emporia's favorite bars. Time your visit right and you'll also enjoy live jazz, funky movie screenings, Weird Wine Wednesdays, or Sunday Brunch. From exquisitely crafted cocktails (you just have to try the Negroni, USS-style!) to a world-class gourmet menu (Bee Stings, Buddha Bowl, or a Hey! Stack Burger, anyone?), Union Street Social, at 225 E. Sixth Ave., is a must for traveling gourmands. Open Wednesday through Sunday.

If you're lucky enough to be in Emporia for St. Patrick's Day, you mustn't miss the Town Royal St. Paddy's Party. In the spirit of everybody's favorite old-school bar, you can't go wrong at the OG Town Royal. From pounders to pool, it's the epitome of blue-collar chic. Established in 1992, the Town Royal has seen a lot of things, and Emporians in the know just keep coming back for a wide-ranging slate of events that includes Bluegrass & Blues, the annual downtown bars association pub crawl, and the epicenter of all things St. Patrick in March. Drop in for beer-thirty and beyond at 405 Commercial St., seven days a week.

One of the newer players on the Emporia spirit scene is the 6,000-square-foot Bourbon Cowboy country dance bar and pool hall. Home of Free Pool Wednesdays and a strong schedule of live music, dance lessons, and sometimes a mechanical bull, Bourbon Cowboy is Kansas's only certified woman-owned two-level drinking and dancing establishment. Owners Susan and Jason Brinkman purchased the historic building at 605 Commercial St., built in 1901, and renovated it into one of Emporia's favorite watering holes…but not without some historic headaches. Vacant for 15 years before the Brinkmans brought it back to life, the building enjoyed a number of iterations from boarding house to dry goods establishment and carpet store–and a 160-year-old alcohol prohibition on the structure. Tenacity and informed determination allowed the owners to overcome the obstacle, so that today you can grab a cold one from purveyors of the happiest profession in the world.

And when you're ready to kick back after your spirit-sampling adventure, relax at the budget-friendly Super 8 (2913 US Hwy 50) with its easy proximity to downtown, highways, and the Flinthills Mall. La Quinta Inn & Suites offers pet-friendly rooms and free breakfast just minutes from downtown at 2930 Eaglecrest Dr. Numerous eating options are available nearby, along with easy access to the Interstate.

Find your winter spirit in Emporia, and take a deeper dive inside this winter! Check the Visit Emporia website or visit us on Facebook and Instagram for more ways to enjoy the Great Indoors this winter!
Visit Emporia
Visit Emporia welcomes travelers and meeting planners, and serves as the visitor information center for Emporia, Kansas and surrounding area.
Subscribe
Want to stay up date on things to do in Emporia? Enter your email and get weekly updates delivered to your inbox!